Kos, 16/06/2020
Keeping up with the latest information regarding the spread of the virus SARS-CoV-2 and COVID-19 disease in the entire world, we would like to inform you about the measures taken by our hotel, with a high sense of responsibility, to protect our guests and our employees.
We enrolled in POSI SHIELD initiative which is a program for infection prevention and control that consists of creation of hygiene and operation protocols, enforcement of personal protective equipment uses, personnel training, creation of Prevention Team and introduction of POSI efficiency validation procedure.
All personnel are trained in preventive measures and new operational standards according to our set protocols. Our supervisors are trained to make certain that guests follow the safety procedures.
All employees were informed of best personal hygiene practices (hand washing, coughing sneezing on tissues to be discarded or at least on elbows, non-contact of hands with face, avoiding sharing objects).
Hand sanitizers have been added to all areas of the hotel at key points for guests and personnel, especially those that are relatively remote from hand wash sinks.
Enhanced the frequency of cleaning and disinfection has been increased, with a greater emphasis on co-working spaces (toilets, changing rooms, staff cafeteria, meeting rooms, offices, etc.) but also on common equipment (scanners, computers, switches, desks, photocopiers, etc.).
We turned the cleaning and the refilling of the mini bar of guest rooms into an option in selection
We carry out room air-condition filters sanitation before every arrival
All rooms, mattresses, sofa beds and lounges were disinfected by qualified and dully authorized external co-operator.
We introduced changes in our restaurants, buffets, in – room dining in order to meet distance keeping requirements
Reduced paper amenities in the guest rooms and reception
We set up sun beds & umbrellas keeping a distance more than 4m between them.
We change the check in and the check-out time to: 11:00 & 15:00
We encourage usage of online ordering, web check-in and check-out when is possible.
An additional disinfection is being performed in our restaurants and the Gym on weekly basis by a specialized partner who uses environmental approved disinfectants against COVID-19.
We suspend the use of the indoor swimming pool and Jacuzzi.
Astir Odysseus has obtained the "Health First" certification, which verifies that the hotel is complied with the Government safety protocols and guidelines.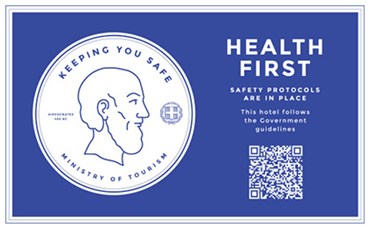 What to Expect During Your Stay?
It is our goal and intention to keep all our services and hotel facilities available while ensuring your safety. Things will be a bit different in your upcoming visit. We are constantly following the latest Government's and Tour Operators' guidelines. We are ready to offer you a great stay but we need your cooperation in terms of:
Social Distancing. Social Distancing is a required practice in our hotel public settings. We've rearranged our lobby and other common areas to help to these directions. So, please be mindful of other guests and keep a 2-meter distance.
Masks and Other Protective Equipment. Our personnel wears masks while in public areas. There are places in our community you may need to apply face protection. We recommend bringing one with you. Or ask for one from our hotel's front office.  
Hotel Services and Amenities. For your safety, some services or amenities such as pool, spas, fitness centers, restaurants and daily housekeeping may be modified or suspended occasionally. You will be constantly informed.
Illness management. For your safety our hotel reserves the right to ask for COVID-19 diagnostic testing upon arrival or during your stay according to sampling plan or if contagious disease symptoms appear. In cases where sickness occurs during the stay, please notify the Front Desk staff. A specialised health care professional will attend you. In the case of serious sickness, you may be requested to receive appropriate health care from a nearby healthcare facility. During epidemics we are entitled to employ precautionary measures within our judgment or as required by local authorities.
We are constantly following developments in the subject, the instructions of the relevant authorities of the state, ready to take immediate additional precautionary actions. We remain at your entire disposal for any additional information or clarification required.
Eleftherios Parvantonis
Astir Odysseus Kos
Hotel Manager